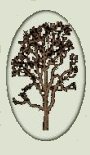 Emma Kate Hunn WHEATLEY Obituary
Source: clipping from family album, probably from the Weekly Democrat-Gazette of McKinney, Texas
Funeral Held Thursday for Mrs. Wheatley
Wife, Former District Clerk Was Native This County
Largely attended funeral services for the late Mrs. Kate Wheatley, were held at the North Baptist church Thursday afternoon at 2 o'clock, conducted by the pastor, Rev. G. B. Bradshaw, assisted by Rev. J. Ben Snider. Burial was made in McLarry cemetery, four miles northwest of the city, beside the grave of her late husband, former District Clerk A.S. (Matt) Wheatley, who died here October 16, 1932. Active pallbearers were: Lloyd Davis, H.S. Ware, A. L. Drain, W. M. Burgess, Leonard Ray, and A. J. Smith.
The deceased was a native of this county, being born March 13, 1869, the daughter of the late Capt. Frank M. Hunn and wife, pioneer Collin residents who lived about four miles northwest of McKinney. She was married Nov. 25, 1890, to Alex Scott Wheatley, who preceded her in death. She is survived by two sons and three daughters, as follows: Frank Wheatley, McKinney, insurance man; Weldon Wheatley, employee of Allen's market; Mrs. A. C. Watson of Greenville; Mrs. Elmo Cloyd of McKinney; and Mrs. Jim Foy of Petersburg, Texas. Three children preceded her in death as follows: Carl Wheatley, who died in 1919; Mary Etta Wheatley, who died in infancy and Willie Belle, who died at the age of eleven years. Several grandchildren also survive.
The deceased was active in the North Baptist church, being faithful in attendance. She was admired by many friends for her sweet Christian character and her passing is being mourned by a host of friends and loved ones. Her bier was covered with a profusion of beautiful floral offerings, which more mute testimonials to the high respect in which she was held, which were sent by admiring friends of the deceased and her loved ones.


---
Please direct questions or comments to:
kengena@swbell.net