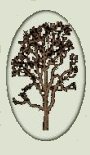 James B. Foy Family
James B. Foy was born Aug. 13, 1851 in Knoxville, Tenn. He came to Tex. in the late 1880s. He met Cora Jefferson Reed and they were married at Navada Dec. 27, 1882. They made their home in McKinney. There, eight children were born: Maude (Mrs. W. T. Dunn), Dallas; Francis, died when he was a year old; Elbert, McKinney; Jim, Fort Worth; Minnie (Mrs. Luther Ray), Modesto, Calif; Dewey (Mrs. Earl Bramlett), Wilcox, Ariz., Ester (Peggy), Lubbock, and Raymond, Ralls.
J. B. moved his family to Canyon in 1906. They lived there for a number of years. Then they moved to Crosby Co. in early 1917. He was building a house close to Estacado community when he became ill. He died Nov. 19, 1917 and was buried at McKinney.
Jim and his family lived in this house for a number of years. Mrs. Foy, Dewey, Ester, and Raymond moved to Ralls. Ester finished high school in Ralls in 1923. Dewey married Earnest Carr from Ralls.
Mrs. Foy, Ester, and Raymond moved to Raymond's farm 12 miles northwest of Ralls in Farmer community. At that time, Raymond was not interested in farming. He went to work for his brother-in-law on the railroad. He worked there several years.
Mrs. Cora J. Foy died August 8, 1955 and is buried at Emma.
Excerpted from Crosby County Families.
Return to FOY
---