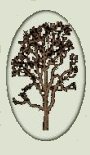 McGarrah Genealogy
(Continued)
---
Notes:

*Jeff McGarrah states that a William McGarrah (McGarrow) was present in Lancaster Co., SC as early as 1778, and served in the Revolutionary War under Colonel Kershaw and Colonel Marshall, and paid taxes on land located on the east side of the Wateree River. According to Debbie Morgan, George is believed to be the son of William McGarrow/McGarrah, Sr., born 1756/57 in Ireland and died 1845 in SC or Ohio. She also states that William McGarrah Sr. was possibly the son of John McGarrah born 174_ in Ireland. She further states that Col. George McGarrah had a brother named William McGarrah, Jr.

**Some sources indicate the patriarch of the line as George, others as James. It has been suggested that perhaps George was a first name, James a middle name, or vice versa. Then again, maybe they are completely different people. If they are different people, then it is inconclusive whether Thomas McGarrah was the son of James or George.

***Debbie Morgan lists the first spouse of William McGarrah as Rachel Graham, daughter of Peter and Nancy Graham. However, Jeff McGarrah lists her as the spouse of Thomas McGarrah.

+Mrs. Sarah FORD had one child from a previous marriage, G. W. FORD.

++One source lists Mary Pauline (Polly) GRAHAM as the daughter of Peter and Rachel GRAHAM. However, it has been shown by other sources that she was actually the daughter of Elijah and Sarah GRAHAM. It is believed that Peter and Elijah GRAHAM were related in some way, perhaps as cousins, as their families traveled together and intermarried, and there are many of the same first names used in the families; however, the link has not been proven. Some sources list Polly GRAHAM as being 1/4 or 1/2 Cherokee Indian. This has also not been proven.

#George Henry HERNDON is supposedly the first white male child bon in Collin Co., TX.

+++According to Debbie Morgan's notes on Randolph McGarrah: He enlisted in the Civil War fo 1 year in the Arkansas Cavalry, then transferred to the 6th Texas Cavalry and was at the Texas General Hospital in Quitman, Clark Co., MS in 1863. He also served as a private in the Texas Rangers under his father's command. On the 1860 Collin Co. TX census, he and his son William were living with his mother, Mary Pauline (Polly Graham). On the 1870 Collin Co., TX census, Randolph's son William was living with James Conway McGarrah's family.

##Seborn G. S. McGarrah also served in the Texas Rangers. Paula Waller places him in OK in 1900, but it is unknown when and where he died and was buried.

###Martha Goodman BROWN had a child from a previous marriage, W. S. BROWN, born 1859, AR.

As always, if you have additional information or corrections, please let me know at kengena@swbell.net.
---
Sources:
I am deeply indebted to the following McGarrah researchers who have provided extensive source material, family group sheets, pedigree sheets, speculation, and advice, and who have contributed heavily to this page:
Judd Stiff (stiff@best.com)
Jeff McGarrah (http://www.bstream.com/~jmcgarrah/mcggen1.html, jmcgarrah@bstream.com)
Debbie Morgan (rlmorgan@texhoma.net)
Paula Waller (pauladwaller@hotmail.com)
Susan Krueger (smkrue@aol.com)
John Wilmeth (jrwil@swbell.net)
Priscilla Lane (lanep@webtv.net)
Other Sources:
(If you know the complete citation for one of the works listed below, please let me know so I can give credit correctly. I only have copies from many of these sources, listing only the title.)
Alice Ellison Pitts and Minnie Pitts Champ, Collin County, Texas, Families (Hurst, Texas: Cutis Media, Inc., 1994).
J. Lee Stambaugh and Lillian J. Stambaugh, A History of Collin County, Texas. The Texas State Historical Association, Austin, 1958. Minneapolis, Lund Press, Inc.
1850 Collin County Texas Census
One Hundred Years of Fayetteville, 1828-1929, William S. Campbell, The Journal of Marian Tebbetts Banes, 1977, published by The Washington County Historical Society, 118 East Dickson Street, Fayetteville, AR 72701
Collin County Pioneering in North Texas, 1st Edition, by Capt. Roy F. Hall and Helen Gibbard Hall, 1975, Nortex Press, Quanah, Texas
McKinney Daily Courier-Gazette
Collin County Cemetery Inscriptions, Vol. 1, Alice Pitts, Wanda O'Roark and Doris Posey, printed by POP Publications, The Manney Company, P.O. Box 10188, Fort Worth, Texas, 1975.
Collin County Texas Marriage Records, Books 3 and 4.
Social Security Death Index
Collin County Texas Earliest Marriages
Arkansas 1860 US Census Index by Kathryn Rose Bonner
Obituary Index, Collin County, Texas
Obituaries of Washington County, Arkansas, Vol. 1, 1841-1892, Indexed, Annotated, compiled and edited by Barbara Pickering Easley and Verla Pickering McAnelly.
History of Washington County, AR
Arkansas Marriages, Early to 1850, A Research Tool, Compiled, extracted and transcribed by Liahona Research, Inc., P.O. Box 740, Orem, UT 84059-0740, edited by Jordan R. Dodd, Precision Indexing Publishers, 1990.
Cemeteries of Washington County, Arkansas, Vol. 1, Summer 1980, published by Northwest Arkansas Genealogical Society, P.O. Box K, Rogers, AR, 72756.
Cemeteries of Washington County, Arkansas, Vol. VI, Summer 1983, Published by Northwest Arkansas Genealogical Society, P.O. Box K, Rogers, AR 72756.
Cemeteries of Washington County, Arkansas, Vol. VII, Summer 1984, Published by Northwest Arkansas Genealogical Society, P.O. Box K, Rogers, AR 72756.
Texas Ranger Service Records, 1847-1900, Vol. IV, by Frances T. Ingmire, 1982, Ingmire Publications, 10166 Clairmont Drive, St. Louis, MO 63136.
Cooke County Marriage Records for Texas, 1849-1879
---
Please direct questions or comments to:
kengena@swbell.net