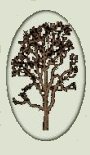 Elijah Graham Family
(Continued)
---
Notes:
* An alternate spelling is "Grayham."
1. According to "A History of Ozark County 1841-1991" by the Ozark Co. Genealogy and History Society, Bernie Sanders, a descendent of John B. FORD and Susan GRAHAM gives Sarah's last name as "BRAY." Melva Owen lists Sarah's last name as "LEE."
2. WFT Vol. 14, Tree #1226 lists her as Elizabeth Betsy LEE.
From Turnbo Sketches, excerpts by William Yates, Sparta, MO 1973, pg. 51, 54:
"From the top of the bluff between where the waters of Little North Fork and Pond Fork mingle, ---on the west bank of North Fork below the junction of the two streams is situated the hamlet of Theodosia....On the opposite side of North Fork from the bluff is an old time burial place of the dead. This graveyard is marked by a grrove of timber and is situated on the upper part of the Liza Friend farm....Mr. Liza Friend informs me that Agnes, a little daughter of John B. Graham, died in 1838, her body was the first interment here....the old pioneer settler John B. Graham and his wife whose name was Betsy is also buried here....This village of the dead was known many years ago as the Betsey Graham Grave Yard, taking its name from Mrs. Betsey Graham who lived here after the death of her husband."
Tom Graham writes: "My wife Cindy and I walked this graveyard a couple of weeks ago, when we passed through Theodosia. The graveyard was moved in 1950 because of the building of a large lake with the damming of the North Fork of the White River. The new cemetery is now known as the "Friend Cemetery" and consists of about 20-30 marked and identified graves, mostly Friends, but no Grahams, and about 30-40 unidentified graves, marked only with concrete posts."
3. Elijah Graham was a member ofo the Shiloh Primitive Baptist Church in Green Co., KY in 1800.
4. Berry D. Graham was the founder of Shiloh Church in Springdale, AR. According to Cornerstone Families by Alma Farrar, pg. 570, "Berry D. Graham, born 1797 in North Carolina, went to Kentucky. There, he married Sarah Wright, daughter of Thomas Wright, who lived near Greensburg. They moved to Taney County, Missouri and in 1840 moved to Arkansas, four miles south of Fayetteville. In 1845, he moved one mile west to Springdale."
5. "Green County Marriage Records, 1793-1836" gives two dates of marriage for Freeborn. The 1810 date is most likely correct, based on 1810 Green Co., KY census. He had at least 5 children in addition to those listed.
From Tommy Graham: "On page 10 of the Oct. 1979 issue of the Green County Review is a 'list of persons chargeable with County Leavey for the years anexed to their names Due to the County of Green to wit, and who have moved to Hardin Cty'. In the table under the year 1811 is the name 'Grayham, Freborn*' with the note--'*paid not and acknowledged himself InSolvent (marked through but still legible) the damist Rascal that I Ever Met with in all my life I know he is void of all Human feeling (located Green County Court Clerk's office-loose file)'.
6. It is unknown exactly what relationship was shared between Elijah Graham and Peter Graham. Their families traveled together, intermarried, and share many of the same family names. It is possible they were cousins.
7. Ppossible additional children of Elijah and Sarah include brothers William and Elijah GRAHAM who settled in Madison Co., MO by the late 1820s/early 1830s; however, I have notes from Tommy Graham citing Bobby Byars Lynch which suggest that they were not the children of our Elijah and Sarah. It has not been proven that Freeborn, Gallant, and Ellis are the sons of Elijah and Sarah, but it is pretty certain that they are. Elijah and Sarah may also have been the parents of Maria GRAHAM (wife of Stephen DUGGIN), Levicy GRAHAM (wife of Solomon TRIBBLE), and Zerusha (Jerusha) GRAHAM (b. 10 Sep. 1808, KY, married Moses LANTZ/LANTA?, d. 17 Jul. 1893, Ozark Co., MO) but this also has not been proven. There may have been two, and possibly even three, Elijah and Sarah Graham families in Green Co., KY during the years 1790-1810, all of which may or may not be connected. Following is information sent by Priscilla Lane, from World Family Tree, which might explain things:
Vol #16, Tree #1582
Descendants of William Graham Sr.
1. William Graham Sr. was born WFT est. 1693-1729 and died abt 1809 in
Caswell, NC. He married Rachel WFT est. 1714-1765.
Notes: for William Graham Sr.
Death! See Caswell Co. will book F, p. 70, and records of September
Court 1809.
Children:
1) Charity Graham b. WFT est. 1720-1769; d. WFT ext 1739-1814 m. Allen,
WFT est 1739-1800.
2) Lidda Graham b. WFT est 1720-1769; d WFT est 1739-1814 m. Peter
Elmore, WFT est 1739-1800.
3) Edward Graham b. WFT est 1720-1769; d. WFT est. 1743-1810 m. Nancy,
WFT est 1743-1803.
4) William Graham b. WFT est 1720-1769; d. WFT est. 1721-1810.
5) George Graham b. WFT est 1720-1769; d. WFT est 1743-1810 m. Nancy
Norton, WFT est. 1743-1803.
6) John Graham b. WFT est. 1720-1769; d WFT est. 1721-1810
7) Peter Graham b. WFT est 1720-1769; d. WFT est 1721-1810.
8.) Polly Graham b. WFT est. 1720-1769; d. 1739-1814; m. Charles
Elmore, WFT est. 1739-1800.
9) Elijah Graham b. WFT est 1723-1754; d. WFT est. 1790-1817.
Here is this person's version of Elijah's children:
Elijah Graham married Sarah WFT est. 1749-1795.
Notes for Elijah:
The name of this person is uncertain. It is thought that this was a son
of Wm. Graham Sr who married to the Sarah Graham listed in Wm's will and that he had died before his father Wm. The speculation arises from the
approximately 67 ac tracts given to the heirs of Berryman Graham, Sarah
Graham and 64 ac to grandson Herrington Graham by Wm. Graham Sr. See
Caswell Co., deed book N, p. 111, 29 Dec 1803.
Children of Elijah & Sarah
1) Micajah Graham, b. WFT est. 1753-1795, d WFT est. 1754-1843.
2) Travis Graham, b. WFT 1753-1795; d. WFT est. 1754-1843.
3) Elijah Graham, b. abt, 1765; d, WFT est, 1766-1855.
Notes for Elijah Graham:
Went to Izard Co., Arkansas about 1817-1818, and died 14 Nov 1841 in
marion Co., AR (Marion created from Izard in 1836)
4) Sarah Graham b. abt 1773, d. WFT est. 1774-1867.
5) Benjamin Graham [he might have been Berryman] b. abt 1780; d bef 13
Apr 1802 in Caswell, NC
6.) Herbert Graham, b. abt 1780; d WFT est 1781-1870.
7) Herrington Graham, b. abt 1780; d. 1840, Green, Kentucky.
8) Mariah Graham, b. abt 1781; d. WFT est 1782-1875.
9) Levicy Graham, b. abt 1783; d. WFT est. 1784-1877.
10) Hampton Graham, b. abt 1790; d. WFT est 1791-1880.
Tree extended Benjamin's line from there on.
8. According to Priscilla Lane's notes on Gallant Graham, 08/25/98:
"Gallant & Delila were in Tumlinsa, Scott, AR in 1850. They moved with
the Reeders to Paris, Lamar, TX abt 1859 or 1860. They moved to Bonham,
Fannin, TX btw 1865 and 1869 where Gallant, George & Rebecca were found
living with my g-g grandparents, Warren W & Delphia (Graham) Reeder.
Gallant was not found in the 1880 Texas census with Harrison &
Elizabeth, but Asa had already moved to Arkansas. The other children
might have moved to Arkansas also. No one found in Texas after 1870
census except for Harrison. and George was found in Lamar County in
1880, sorry I left this out above. According to Arkansas Land
Records, Asa was in Madison Co., Ar in 1899 and Harrison in Conway Co.,
1884."


---
Sources:
Tommy E. Graham
Melva Owens
Susan Krueger
Judd Stiff
Priscilla Lane
(I do not have complete citations for some of the following, as I only have copies or have received the citation from another researcher. If you have the full citation, please let me know so I can give appropriate credit.)
1830 Izard Co. AR Census
1840 AR. Census
1800 Green Co., KY Census
1810 Green Co., KY Census
Izard County, Arkansas Tax Records, 1829-1866, by Desmond Walls Allen, P.O. Box 303, Conway, AR 72032, (501) 470-1120.
Washington Co., AR Histories, pp. 1048-1051.

"A History of Ozark County 1841-1991," Ozark County Genealogy and History Society.
Turnbo Sketches, excerpts by William Yates, Sparta, MO 1973, pg. 51, 54.
Alma Farrar, Cornerstone Families, p. 570.
Green Co., KY Marriage Records
Flashback, Vol. 26, No. 1, February 1976, Bobbie Byars Lynch.
"Ozark County Missouri, Records and Pioneer Families," compiled and published by William A. Yates, Sparta, MO 65753, p. 52, 56, 60.
S. C. Turnbo, "Among the Indians and Other Early Incidents."
Levi & Nancy (Graham) Graham Bible, in possession of Mrs. Nellie Hickman, Springdale, AR, Item 4 on LDS Film #1034268.
Biographical & Historical Memoirs of Northeast Arkansas, pub 1889 by
Goodspeed Publishing.



---
Please direct questions or comments to:
kengena@swbell.net