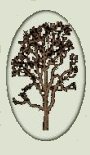 Jim Foy Family
Jim and Kay Foy moved to Lockney in 1917 from McKinney, Texas. They lived there nearly a year while Jim was building them a house three and one-half miles northeast of Estacado. They moved to the farm in 1918 with four children, Dixie, Wallace, Tee, and Vincent. After they moved to the farm, they had three more children, Marcine, J.A., and Jo.
After the house was built, Jim built one of the largest barns in the community. The hallway in the barn would hold one hundred head of cattle. There were stalls for horses and a work shop on one side of the barn. The first crop of feed was put in the barn. The night the last load was put up, the barn burned. The crop and equipment were completely lost, but all the livestock was saved.
Jim completely fenced the farm with post he and his father had cut and had shipped from Collin County.
Kay was a person to stay at home and tend to her family. At that time they had one of the few telephones in the area and people often went to the Foy home to use the phone because they knew Kay would be there.
When Dixie and Wallace started to school, Jim and Kay ordered them a red two-wheel horse drawn cart, from Sears-Roebuck and Company. They liked to drive fast even then, and were known to outrun the funeral procession with their horse and cart. Later, they had a Model T Ford to go to school.
Jim served as a school trustee for the Estacado School District for several years.
After their children were raised, Kay became very active in the Baptist Church and worked hard to help keep the church going.
The Foys lived in the Estacado Community for several years before moving to Lubbock. As of this writing, Jim, Kay, Wallace, Tee, and Vincent are deceased. Dixie lives in Idalou, Marcine in Ft. Worth, J.A. in Brownfield, and Jo in Tacoma Washington.
(Written by Dixie Becton. Dixie and Jo are deceased since this writing.)


---
Please direct questions or comments to:
kengena@swbell.net