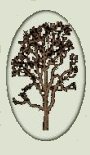 "A Murderer in the Family?"
On August 16, 1875 Isaac Newton Stagner (Newt) married Gildora Wheatley (born 1860), daughter of Judge and State Legislator James Knox Wheatley and Mahulda Jane Hall. Newt and Gildora had three children: Noah Bell, George Thomas, and Claudia. After Gildora's death in August of 1863, Newt married her older sister, Belle Donia Wheatley Butler, widow of James "Mando" Butler. According to family history, sometime after their marriage of April 15, 1884, Belle and Newt left Benton County under questionable circumstances. Newt is said to have "waylaid" and murdered Belle's husband Mando on the James Knox Wheatley homeplace in Big Sandy, TN. In 1982, the late Griscol Wheatley, grandson of James Knox and then resident of the homeplace, confirmed family stories of the murder by indicating a large boulder by the side of the road leading into the property as the place where the killing had occurred. A search of county circuit court records indicates that although Newt was fined repeatedly for packing a gun, no arrest for the Butler murder was ever made. Records do indicate that Newt had borrowed money from Butler.
In 1884/1885, Belle and Newt left baby Claudia behind in Benton Co. and journeyed to McKinney, TX, where they joined Hall cousins from Benton Co. They were warned to never again return to TN.
For the last fifty years of their lives, Belle and Newt Stagner farmed peacefully outside the town of Celina, TX. There, untouched by scandal, they were well-loved and respected members of their church and community. Isaac Newton Stagner died in Jan. of 1941. Belle died on Sept. 26, 1934. Belle was remembered by her daughter-in-law as "tight-fisted" and Newt was a "gentle, lovable old man" by his granddaughter and Faye Stagner Baker.
Submitted by Wil Christopher (wchristo@mail.win.org)

Got a great story about our family? We'd love to post it! Submit to kengena@swbell.net.
---
Please direct questions or comments to:
kengena@swbell.net