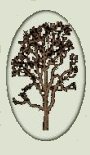 Catherine Burrow Biography
Source: James H. Blanks, Burrow Family History (out of print), Chapter 2. (See also, Notes, below)

---

Catherine Burrow was the first child of Phillip and Margaret Burrow and was born in North Carolina, April 4, 1798, probably in Guilford or Orange County. She moved with her parents to Bedford County, TN in 1806. She marrried in Bedford County about 1816 to Samuel Burrow, a cousin, whose parents are unknown. The family moved to Carroll County, TN during the 1820s. Samuel apparently owned no taxable land at this time, and died in Carroll County in 1844. His burial location is unknown. A short time after Samuel's death, Catherine purchased a 40 acre tract of land from her father, part of the Phillip Burrow home place. Catherine probably died in Carroll County, but her death date is not documented. From the census records, it appears that Samuel and Catherine Burrow had eight children; however, the names of only five of them are known: Mary (Polly) S. Burrow, born about 1818 in Bedford County, TN. She apparently never married and was living with her mothe rin Carroll County in 1873. Male child, born about 1820. Female child born about 1822. Male child born about 1824. Margaret Burrow, born about 1827. Lucy D. Burrow, born about 1832, married Dec. 16, 1848 to William Green Nipper. Newton Burrow, born about 1836, married Louisa ? about 1864. Nimrod Auston Martin Burrow, born about 1839, died about 1885, married November 15, 1861 to Elizabeth Harper.
---

Notes:

James R. Blanks did not have any information on Margret Burrow Reed, other than her name. See her biography for additional information.

Thanks also to Phillip Burrow (pmburrow@geocities.com) for additional information on the Burrow family.

References to Samuel Burrow include:

Carroll County, TN Deed, Book B, pg. 53, dated Feb. 29, 1828 (witness)
Deed of Trust, Book E, page 330, dated March 19, 1842 (secured a debt of $95.00 owed to John H. Alexander)
1st District in the Carroll County Tax Lists of 1836, 1839
Carroll County Court Minutes, Oct. Term 1844, page 84, 85 and November term 1844, page 94, record of disposition of assets of the estate of Samuel Burrow

References to Catherine Burrow include:

Deed Book F, page 282, dated Oct. 15, 1844, purchase of 40 acre tract of land from father
1850 Tax List of Carroll County in the 1st District
1830, 1840, 1850, 1860, and 1870 census records of Carroll County
Carroll County Deed Book T, pages 367-368

The 1850 census lists a one-year-old female child named Emily living with the family. There is no indication who this child belongs to, and she is not listed on the 1860 or the 1870 census. Martin Burrow, listed in the 1870 census, is Catherine's youngest son, Nimrod.
---
Please direct questions or comments to:
kengena@swbell.net